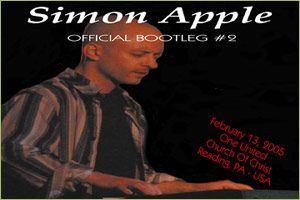 Limited "Autographed" CD - $8.99 (signed by Jeff)
1. Intro
2. Katherine
3. Weight Of The World
4. Significance
5. Take My Life
6. For Every Loss
7. The Colours In Between
8. A Way Outside
9. A Way Inside
10. Leap Of Faith
11. A Lot Of Hope
Recorded Live - February 13, 2005 at One United Church Of Christ in Reading, PA - USA.
This was recorded at Jeff's home church - the second ever Jeff & Dan acoustic duo performance.
The 2nd installment of the "Official Bootleg" series. According to Jeff, "I have a large collection of live bootlegs from my favorite artists. I've always loved raw, live recordings, and I always wished those artists would release this kind of stuff, as opposed to me spending years tracking them down! This Bootleg Series hopes to 'quench that thirst' for the people who like this kind of stuff. These will also be specially priced - since many shows will have similar set-lists, and are primarily geared towards the 'collector' who doesn't mind hearing 50 different performances of the same song! Of course, there are improvisational spots throughout most Apple shows - so to a point, no 2 shows will be exactly the same. These are also meant to serve as a little souvenir for anyone who attended these specific shows."
Total Time - 52:20
Produced and Mixed by Jeff Miller
Cover Photo by Judy Hennessey