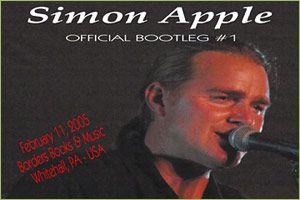 Limited "Autographed" CD - $8.99 (Signed by Dan or Jeff)
1. River To The Sea
2. Katherine
3. Weight Of The World
4. Take My Life
5. For Every Loss
6. Hold Me (Like A Lover)
7. Significance
8. A Way Outside
9. A Way Inside
10. Love S'possed To Be Like That (Take 1)
11. Love S'possed To Be Like That (Let's Try This Again!)
12. Requests?... Track 13??
13. A Lot Of Hope
Recorded Live - February 11, 2005 at Borders in Whitehall, PA - USA.
This is a little piece of history, as it was the very first Jeff & Dan acoustic duo performance.
This is the first CD in a series of what we'll call "Official Bootlegs". These will typically be soundboard recordings, sometimes with ambient microphones mixed in, and occasionally some tracks split individually for more mixing control. This series will not be sonically as good as an official live album, but will sound better than your typical audience bootleg... and performance-wise, it's "warts & all" - no overdubs to fix mistakes. There may be some minor edits, but for the most part, it's "as is"... or "as was"!
Total Time - 56:53
Produced and Mixed by Jeff Miller
Cover Photo by Judy Hennessey